Gotu Kola Tea
Gotu kola tea is an herbal tea prepared from fresh or dried leaves of gotu kola (Centella asiatica), a perennial herb found in Southeast Asia, Indian subcontinent, and some parts of Southeastern US. The leaves with their slightly bitter and pungent taste are used in regional cuisines of South Asia. A wide range of potential medicinal benefits along with the healing properties of gotu kola makes it a popular drink.
History and origin
Gotu kola has been traditionally used in ancient Chinese and Indian medicine. Its use for treating skin conditions, improving cognitive functions, and healing wounds have been recorded in original Ayurvedic texts. In the past, Chinese herbalists and martial arts instructors took gotu kola and other medicinal herbs to increase their longevity.
Gotu kola tea benefits
Improves blood circulation
Several studies have shown that consumption of gotu kola tea helps improve blood flow and lessens swelling of legs caused by pooling of blood in those suffering from venous insufficiency. People with diabetes may also benefit from its regular intake since it aids in improving circulation and reducing fluid retention. As a result, its consumption is good for alleviating the symptoms of edema. Preliminary results of scientific studies indicate that having it before long plane flights assists in preventing blood clots, thus reducing the chances of leg and ankle swelling.
Good for atherosclerosis
Its antioxidant and anti-inflammatory properties play a crucial role in preventing deposition of cholesterol on the inner lining of blood vessels, and thus reduces the chances of strokes and heart attacks caused by atherosclerosis (hardening of arteries).
Boosts brain power and mental functions
In some animal studies, its use has been shown to reduce stress and anxiety, as also to increase cognitive abilities. This benefit is attributed to its triterpenoid content, which not just calms the mind but also promotes sleep helping those with insomnia. There is some scientific evidence that taking a blend of gotu kola, ginkgo, rosemary, and cat's claw for a few weeks helps improve brain functions in those affected with liver diseases.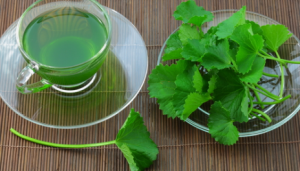 Antiseptic properties
Owing to its antimicrobial properties, drinking gotu kola tea on a regular basis helps fight off the symptoms of viral, bacterial, and parasitic infections including common cold, swine flu, influenza, dysentery, cholera, UTI, tuberculosis, and elephantiasis.
Alleviates gastrointestinal problems
It facilitates in strengthening the epithelial cell lining of the stomach, promotes healing in stomach ulcers, and protects the gastrointestinal tract from ingested toxins. A chemical compound called malonylquinic acid is found in gotu kola that helps in lessening the symptoms of inflammatory bowel disease (IBS) such as stomach pain and diarrhea.
Hepatoprotective property
Gotu kola tea is beneficial in protecting the liver from viral hepatitis. Its intake also helps in preventing the development of scar tissues, and aids in the treatment of fibrosis and cirrhosis.
For hair loss
Its use helps strengthen hair follicles and reduces hair loss by improving blood circulation in the scalp. It also promotes regeneration of hair.
Other uses
When applied on the skin, the active constituents of gotu kola including madecassic acids, asiatic acids, madecassoides, and asiaticosides enhance production of collagen, helping in reducing scarring as well as some of the symptoms of psoriasis. Its topical application also soothes wounds and burns.
The herbal infusion can be used as a gargle, which helps in providing relief from a sore throat as well as other symptoms of tonsillitis.
How to make gotu kola tea
Take a teaspoon of fresh or dried gotu kola leaves in a teapot
Add one cup of boiling water into it
Brew it for 5 minutes
Strain into a teacup
Serve hot after adding some sweeteners
Safety and precaution
Side effects
Moderate drinking of gotu kola tea is safe, but side effects such as drowsiness, dizziness, nausea, and headache may take place if taken in excess amounts. Its consumption should be avoided if you are on medications for liver problems.
During pregnancy
Its topical application is safe for pregnant women and its use assists in reducing stretch marks. However, consumption of gotu kola tea is not conducive to the health of expecting and nursing women.
Where to buy
Fresh organic gotu kola tea leaves can be purchased from the local market, while cut and sifted, dried herbs and tea bags can be availed from online tea stores.
References
Article was last reviewed on 24th November 2022
Related Articles
Leave a Reply